I just started Wavy Wednesday and got through the first set of pattern repeats by Thursday. I'm using Supermerino from
Artyarns
. The color is 121, which is a turquoise or teal color. I have four skeins of this wonderful yarn. I made the bad stash-enhancing habit of buying the yarn, but didn't have a project for it. Now I have a valid project which I think justifies the purchase!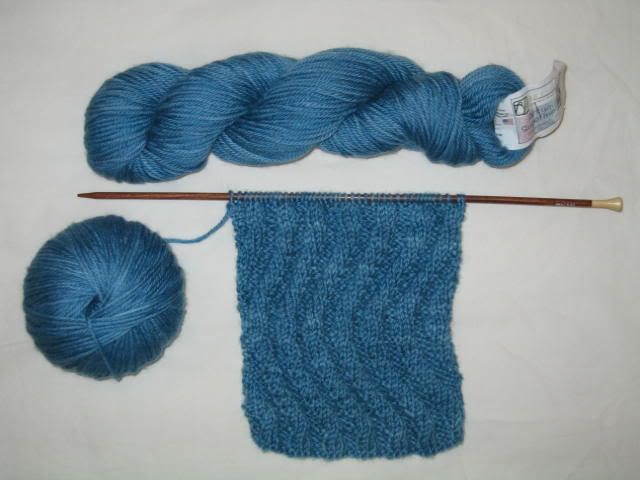 I was able to work on it more last night during the season finale of "The Apprentice" and almost finished off one skein. I believe I've done 3 sets of rows. Currently, it's about 16 inches long. I really like how it's turning out. At first, I didn't like the way the handpainted yarn made it look uneven, but the more rows I made, the better it looked. It actually hides more of the imperfections.

Peatbogfaery
said...
Looking fab! What needles are those?
knit_chick
said...
I'm using 12" US 6 (4mm)
Lantern Moon
needles in Rosewood.
said...
Nice site!
[url=http://srixobln.com/dxsy/jgpf.html]My homepage[/url] | [url=http://exczojbi.com/foju/qdcx.html]Cool site[/url]
said...
Thank you!
My homepage
|
Please visit
said...
Great work!
http://srixobln.com/dxsy/jgpf.html | http://nrkmamuo.com/wxzh/moan.html